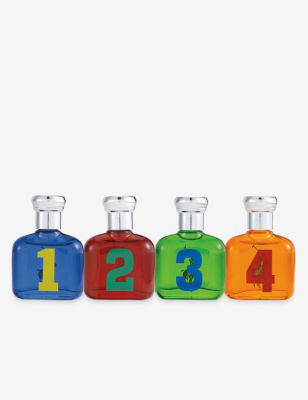 Ralph Lauren Big Pony 4-Pc. Fragrance Collection for Men
This collection continues the Ralph Lauren tradition of redefining American style while bringing choice and modernity to a new generation of men. Its bottles come in four bold colors, each representing a fragrance that evokes a man's strengths, empowering him to "Get in the Game." Try all four Big Pony fragrances.
Set includes: .5 oz. each Eau de Toilette Pours
Big Pony #1 Sporty: This fresh, athletic tonic matches up lime and grapefruit to compel him to victory on the field.
Big Pony #2 Seductive: This sexy mix brings together dark chocolate and musk for a spicy and seductive fragrance.
Big Pony #3 Adventurous: This crisp, outdoorsy scent matches mint with ginger root to trigger an adrenaline rush of extreme sensations.
Big Pony #4 Stylish: This energizing, citrusy fragrance layers mandarin and kyarawood for a one-of-a-kind aromatic signature.
Shipping Charges
Stage Stores shipping charges are applied based on subtotal before discounts are taken. The shipping charge will appear as a line item under your subtotal.
NOTE: You will not incur additional shipping charges if your order(s) is filled from multiple locations.
Shipping Methods
Stage Stores utilizes both UPS (United Parcel Services) and USPS (United States Postal Services) for all our shipping needs.
NOTE: All online packages require a physical address and an appropriate mail receptacle to ensure a timely delivery.
Shipping Time
This is the number of business days (Monday-Friday) it takes merchandise to reach its final destination from the date it leaves our facilities.
We will gladly issue a refund for the amount of purchase when accompanied by the original receipt, packing slip, or purchasing credit card (Note: The purchasing credit card can only be used for merchandise returned at the store).
A merchandise credit will be issued at the lowest selling price within the past 30 days for returns without a receipt. Merchandise credits are redeemable for merchandise only. Note: In-store returns require government issued ID.
Most items purchased either in-store or online may be returned to your local store for a refund or exchange.
Exceptions
All electronics purchased online must be returned by mail.
All fine jewelry with a selling price over $100.00 purchased online must be returned by mail.
For online purchases only, free gifts received with any purchase must be returned when the qualifying item is returned for a refund or exchanged for a non-qualifying item. A "qualifying item" means the item that, when purchased, qualified the purchaser to receive the free gift offered in connection with such items.
Merchandise purchased in the store cannot be returned by mail
For Customer Assistance call 1-800-743-8730.
9:00 AM -9:00 PM (CST) Mon – Sat and 11:00 AM - 6:00 PM (CST) Sun